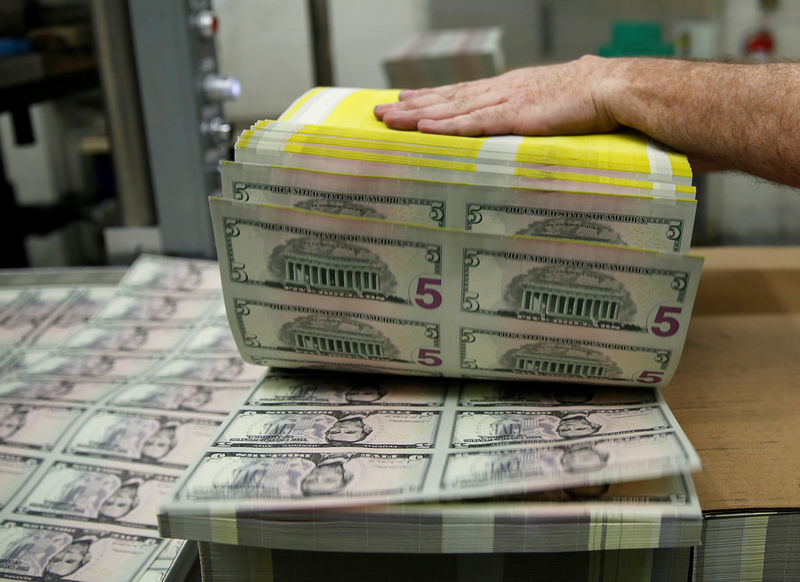 © Reuters.
Investing.com - The U.S. dollar steadied on Friday in Asia, while the Japanese yen fell following the release of better-than-expected U.S. retail sales data.
The U.S. dollar index that tracks the greenback against a basket of other currencies inched up 0.1% to 98.062 by 12:50 AM ET (04:50 GMT).
U.S. retail sales rose 0.7% in July from a month earlier, data showed. Markets previously expected a rise of 0.3%.
Despite the positive data, analysts warned the fragile calm in markets might not last too long.
An inversion of the U.S. Treasury yield curve sparked concerns of a potential recession, while uncertainties surrounding the Sino-U.S. trade war also weigh as Beijing vowed retaliation against additional U.S. tariffs on Chinese goods.
Ongoing protests in Hong Kong are also expected to further complicate the U.S.-China relationship. On Thursday, U.S. President Donald Trump said he trusts Chinese leader Xi Jinping would want to solve the Hong Kong problem "quickly and humanely." China responded by saying it does not want outside opinions on internal matters.
The safe-haven yen fell against the dollar as investor sentiment recovered somewhat amid hopes that central banks, particularly the Federal Reserve, would step in to ease monetary policy.
The USD/JPY pair inched up 0.1% to 106.13.
"Hoping for the best on the policy front but positioning for the worst on the economic backdrop seems to be the flavor of the day," said Stephen Innes, a managing partner at Valour Markets.
"The Fed, now out of necessity alone, will need to adjust policy much more profoundly than they expected."
Fed Chairman Jerome Powell may give a hint of his thinking when he speaks on Aug. 23 at the annual central bankers retreat in Jackson Hole, Wyoming. The topic of his remarks is Challenges for Monetary Policy, according to the Fed's public schedule updated on Thursday.
The AUD/USD pair gained 0.2% to 0.6789, while the NZD/USD pair lost 0.1% to 0.6439.
Original Article