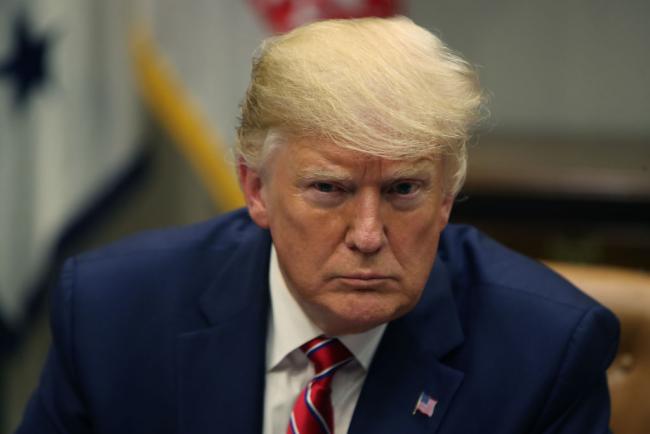 &copy Bloomberg. WASHINGTON, DC - JUNE 12: U.S. President Donald Trump participates in a roundtable discussion on the administration's efforts to combat the opioid epidemic, in the Roosevelt Room at the White House on June 12, 2019 in Washington, DC. (Photo by Mark Wilson/Getty Images)
(Bloomberg) -- President Donald Trump said he's considering backing an increase in the federal minimum wage to $15 dollars an hour, as some Democratic presidential candidates have proposed, but says salary growth during his presidency should assuage concerns over fair pay.
"I am looking at that," Trump said in an interview with "Noticias Telemundo." Trump also said he had "already created a minimum wage because wages have gone up more than anybody in many decades right now" as a result of the strong economy.
Democratic presidential candidates have embraced protests by workers calling for a higher minimum wage and more protection from workplace harassment, and U.S. House Democrats are building support for a bill to raise the federal minimum wage to $15 an hour. The current federal minimum wage is $7.25 but a number of states and localities have adopted higher rates.
Democratic candidates -- Senators Kamala Harris and Cory Booker, South Bend, Indiana, Mayor Pete Buttigieg and former Representative Beto O'Rourke -- last week joined a demonstrating McDonald's Corp. workers in Las Vegas. Earlier this month, Senator Bernie Sanders attended Walmart (NYSE:WMT) Inc.'s annual shareholder meeting to call for increased wages for the retailer's 1.5 million workers.
Trump has given a number of contradictory statements on whether he would support increasing the federal minimum wage.
In 2015, Trump said he wanted to "keep the minimum wage pretty much where it is right now" in an interview with MSNBC, and two months later told Fox News that a New York proposal to raise its lowest wage to $15 an hour was "too high." But in November and December of that year, Trump said wages were "too low" and told Fox News he supported a $15 hourly wage.
The following year, Trump said alternatively that he did not support any federal minimum wage and that he supported raising the federal level to $10 an hour.
Original Article