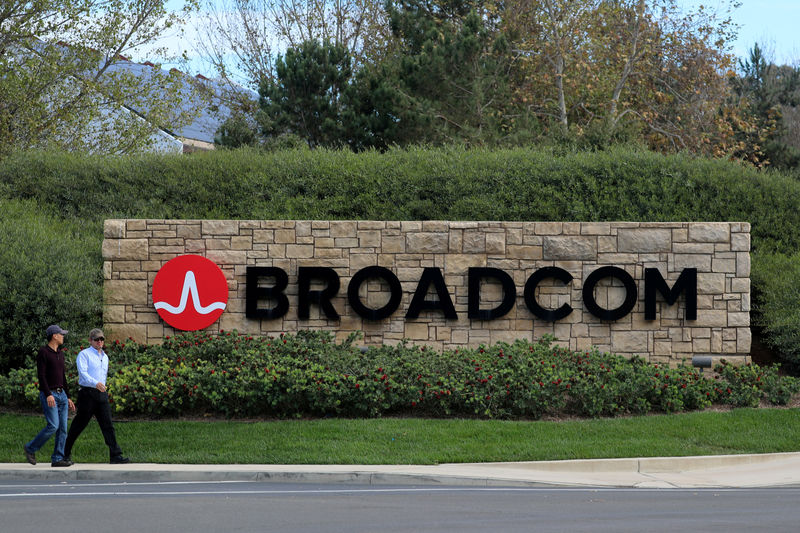 © Reuters.
Investing.com - Broadcom fell sharply Friday, sending chip stocks lower after the company delivered an ominous outlook and reported revenue that fell short of estimates.
Broadcom (NASDAQ:AVGO) fell 6.6% to $263 after slipping to a low of $257.47.
The US.-China trade war claimed yet another scalp as Broadcom sounded the alarm on semiconductors, lowering its its guidance for the full year to $22.50 billion in revenue from $24.50 billion previously. That missed consensus among analysts for $24.31 billion.
The weaker guidance was accompanied by mixed first-quarter results, with earnings of $5.22 a share topping expectations, but revenue of $5.82 billion falling short.
The company blamed the disappointing quarter on the slowing demand, particularly in China, where its largest clients like Huawei have suffered from U.S. export restrictions.
"We currently see a broad-based slowdown in the demand environment, which we believe is driven by continued geopolitical uncertainties, as well as the effects of export restrictions on one of our largest customers. As a result, our customers are actively reducing their inventory levels and we are taking a conservative stance for the rest of the year," Broadcom CEO Hock Tan said in a statement.
In an ominous sign for the broader chip sector, Broadcom's biggest business segment, semiconductor solutions, generated revenues of $4.09 billion, missing estimates of $4.18 billion.
Qualcomm (NASDAQ:QCOM), Intel (NASDAQ:INTC); Xilinx (NASDAQ:XLNX) and Micron Technology (NASDAQ:MU) are on track to end the day in the red.
In the lead-up to Broadcom's results, the backdrop for semis has been deteriorating, with many analysts surprised that the chipmaker didn't adjust its outlook sooner.
"Broadcom's reduced full-year revenue guidance is dismissing the 2H recovery thesis articulated by many semiconductor companies earlier this year - ignoring at the time high and still-rising inventories," Baird said.
Original Article