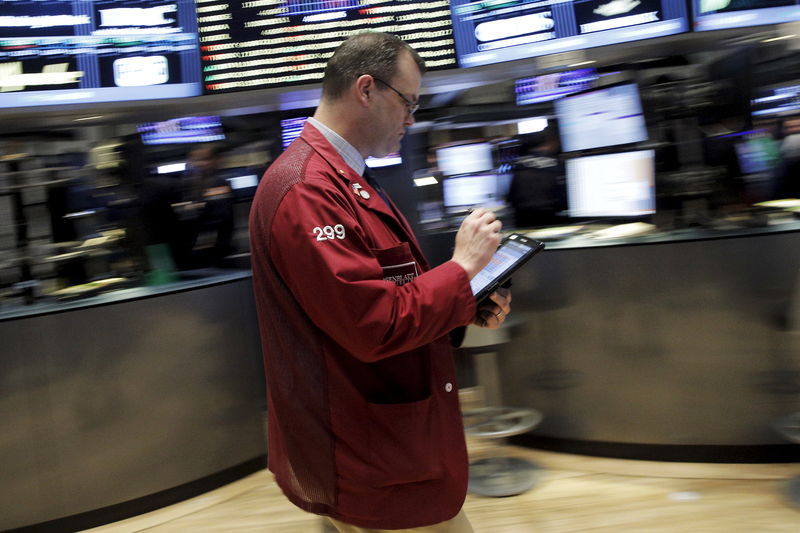 © Reuters.
Investing.com - U.S. stocks closed lower on reports U.S.-China trade talks had stalled, with both sides upping the ante in recent days.
The Dow Jones Industrial Average fell 0.38%, the S&P 500 lost 0.58%, while the Nasdaq Composite fell 1.04%.
Trade-sensitive industrials led the declines in the broader market, falling more 1% after CNBC reported that the scheduling of discussions for the next round of trade talks have been put on hold.
Caterpillar (NYSE:CAT) and 3M (NYSE:MMM) ended in the red, off 3.04% and 1.58%, respectively. Boeing (NYSE:BA), however, eked out a 0.34% gain, shrugging off trade jitters after the aircraft maker completed the software update for its 737 Max plane, which has been grounded following two recent fatal crashes.
U.S.-China trade relations soured following President Donald Trump's earlier decision this week to ban U.S. companies from using Huawei telecommunications technology. Beijing hit back, threatening to walk away from trade talks and accusing the U.S. of lacking a sincere desire to end the trade war,
"If there is no real concrete action by the United States, it will be meaningless for you to come and talk," said Taoran Notes, a social media account tied to the Economic Daily, a state-run newspaper. "It is better to suspend the consultation completely and return to the normal working track."
The comments referred to U.S. Treasury Secretary Steven Mnuchin's intention to travel to Beijing to continue talks.
The Shanghai Composite Index fell 2.48% on Friday and 1.94% for the week. It's off 3.5% in May. American depositary units of Baidu Inc. (NASDAQ:BIDU), the Chinese-language internet search provider, fell 16.5% on Friday after warning future earnings could be affected by the trade dispute. Several investment firms downgraded the ADRs. Baidu lost 18.14% on the week and have slumped 22.81% this month.
Tech stocks were also on the back foot as semis plunged, led by Nvidia (NASDAQ:NVDA), after the graphics chip maker's above-consensus earnings were offset by a lack of full-year guidance and a warning that data-center sales could remain weak. NVIDIA fell 2.28%.
But it wasn't all doom and gloom in semis as Applied Materials (NASDAQ:AMAT) was rewarded for quarterly results that topped expectations on both the top and bottom lines, ending the day up 2.50%.
Energy stocks ended the day lower as oil prices ended a positive week on a dour note, falling modestly on U.S.-China trade jitters. U.S. oil prices racked up gains of about 1.8% this week on increasing bets that growing tensions in the Middle East could disrupt supplies in the region.
In other company news, Tesla (NASDAQ:TSLA) slid 7.6%, after a U.S. safety regulator found its Autopilot systems were active during a fatal Model 3 crash earlier this year. The automaker also flagged concerns over spiraling costs, with CEO Elon Musk reportedly sending out a company-wide email on Thursday cautioning employees to ramp up efforts to curtail costs.
On the economic front, The University of Michigan's consumer sentiment index in May climbed to a reading of 102.4, a 15-year high, from 97.2 a month earlier.
Top S&P 500 Gainers and Losers Today:
Under Armour (NYSE:UAA), Applied Materials (NASDAQ:AMAT) and Humana (NYSE:HUM) were among the top S&P 500 gainers for the session.
Deere & Company (NYSE:DE), Qorvo (NASDAQ:QRVO) and Skyworks Solutions (NASDAQ:SWKS) were among the worst S&P 500 performers of the session.
Original Article